6 ~ 1978, Pomfret visit Victoria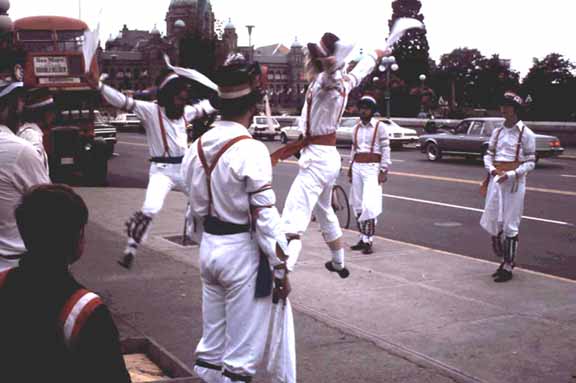 Our return to Victoria was swiftly followed by the arrival of the Pornfret side from Pontefract, Yorkshire, a team specializing in Bucknell.
(The Inner Harbour with,
to the left,
a red double-decker tour bus;
Corners capering
in, I think, Trunkles)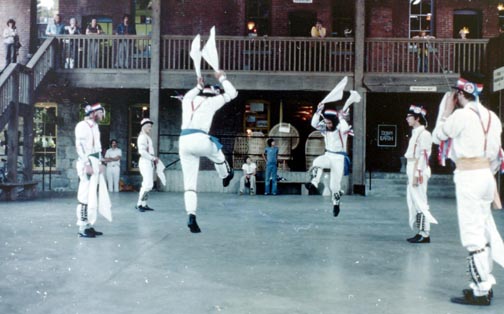 Their trip was noted in AMN 11.3 (Oct '78), and was described more fully in The Morris Dancer, Issues 4 and 5 (Aug and Nov '79). I will just add that since then. there have been individual visits in both directions.
(Market Square's daylight
makes it seem that
they are dancing on glass or ice)
---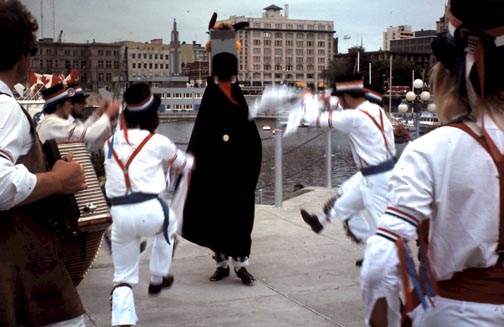 They had a horse, two-legged, with a superstructure for its head so that it towered over everyone. Once in a while a dancer would take a turn.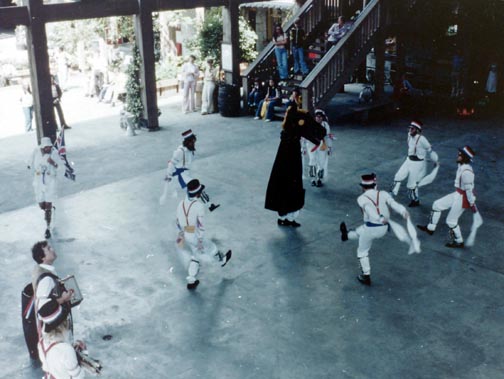 Pomfret danced stylishly and with vigour. They seemed to use their snatch-down action with the handkerchiefs to propel themselves up and forward.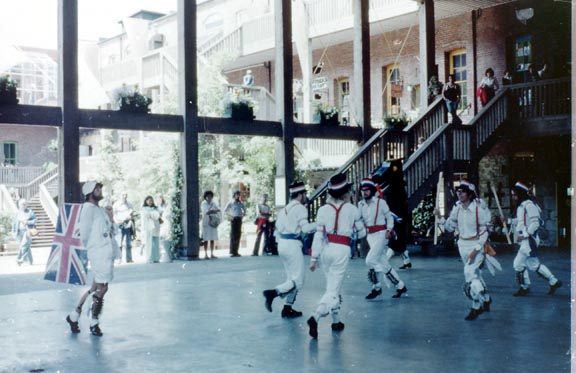 Geoff was their Fool, dressed distinctively, carrying a Union Jack on a stick over his shoulder, announcing the dances - he was a singer, and his voice carried clearly - and mingling with the crowd and collecting money. ("Not for beer, as is traditional, but to pay our air fares home. Thank you!")
We arranged billets for them, and they stayed a week, getting better collections here than in other parts of western Canada they had visited. They entertained us with their singing, particularly Geoff, and Tony the Squire.
Geoff subsequently returned as an immigrant, and married and settled down. I last saw him as a guide and commentator on a TV travel program from the Maritimes.
---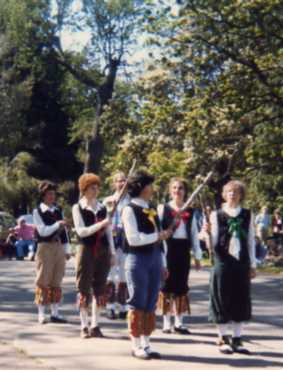 During Pomfret's stay we met Pat Thompson, recently arrived from Toronto where she danced with Green Fiddle. Pat later organized a women's side, including several of the Morris wives, and also found us a permanent musician, Andy Jensen (who plays several kinds of squeeze box), from among the folk music community.
Also in 1978 I made contact with the Morris Ring. Mike Garland (the Bagman) was very helpful in providing leads, whereby I was able to augment our library and build up a collection of Letchworth's tapes.
---