3 ~ 1975, learning Morris; inventing our Sword Dance
In 1975 we were joined by David Taylor, an accomplished folkdance teacher who had just returned from contract employment in Kenya. While there, he had belonged to a Morris side started by another expatriate from England, and with this experience he was able to straighten out some of our problems of interpretation and styling, to add some more Headington material, and to introduce the Adderbury tradition.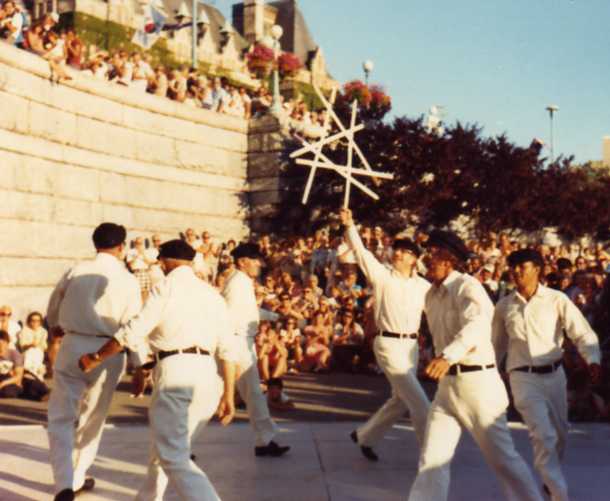 We also took up longsword. Our resources did not include complete instructions on any one dance, but I did manage to stitch together sections from several dances to fit our recording of the Flamborouqh tunes.
(We performed the sword dance, left, and the Morris dance below, on the same occasion, on the Lower Causeway at the Inner Harbour, for the 1978 Captain Cook Bicentennial.
Newly apparent are - I think - Ken, Vic, and Tom.)
At Christine's suggestion we named the dance after Market Weighton, near her home city, Kingston-upon-Hull.
The swords, of fibreglass, I bought from a boating supplies store. I asked for eight three-foot sail battens. (That included two spares.) The storekeeper retired to a back room to cut them, but soon returned with a puzzled look, and enquired, what rig was this boat? So I explained.
Our costume was simply the Morris gear, minus hat, jacket, ribbons, and bells, plus a sailor's cap, all very plain and not distracting the audience's attention from the figures, and also allowing a quick costume change.
Our sword dance went down well with audiences. One visiting Morris dancer who knew sword-dancing said it was interesting in its similarity in one part to this dance, in another to that one, and I said, yes, it was interesting.
Sword-dancing demands coordination, of course, and I treated this training in teamwork as a bonus.
---