2 ~ Looking back to 1974; Bean Setting; et cetera
I thank Norman Stanfield who, finding that the issue containing my article was missing from the AMN website, had successfully pressed for it to be found, scanned, and put on line. He saved me much extra work and delays, for I had mislaid that AMN issue, and my original text.
---
AMERICAN MORRIS NEWSLETTER
VOLUME 68, NUMBER 2 [1984]
Notes from the Editors

AMN is proud to initiate a new feature section in our pages. The concept of "The History of Morris in North America" is to recount the process of how Morris dancing, in all its forms, was introduced, how it spread, and how it has developed across this continent.

The project was initiated in the Fall of I982 while I was on sabbatical in London, England. So while all the archives, diaries, letters of correspondance and lost unpublished autobiographies are found and analyzed, we start the series by recounting the more recent history of the establishment of today's North American sides.

In this, our maiden presentation, we take note of one of our oldest, most western and most northern of sides -- Hollytree Morris from Victoria, British Columbia. Your comments about the progress of these features are always welcomed -- J.C.B. [Jim Brickwedde]
---
History of Morris in North America Project
Hollytree Morris Dancers
Victoria, British Columbia, Canada 1974-1984:
a History by David Winn

Anyone looking for Victoria on the map will notice that our city ~ the capital of BC, but with a population only a fifth of Vancouver's ~ is eccentric and insular. This geography is reflected in our Morris activities.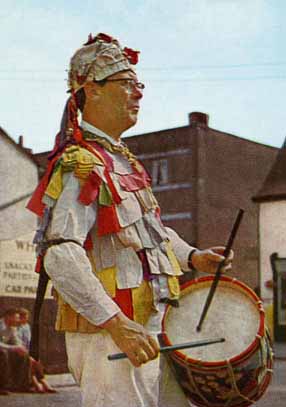 Victoria is a cosmopolitan city with numerous active ethnic clubs, many of which have dance teams. English traditions were not represented, however, and partly with the aim of filling this gap, my wife Christine and I decided to expand our involvement in international folkdancing and tackle dances of our native land. On a return visit to England in 1973, we obtained some literature and recordings from Cecil Sharp House. Using this sparse material, plus books in the public library, I reconstructed two Headington dances (inaccurately, as I later discovered).
(An example of
the Forest of Dean jacket,
worn by Alec Hunter,
Squire of the Morris Ring)
From our folkdance club we recruited enough men for one side. Christine organized the wives in costume-making (the Forest of Dean multi-coloured patch vest, as worn also by the Beaux of London City); the other gear includes straw hat, long-sleeved white shirt, and white trousers; individuals choose their colours for ribbons on hats, arms, and bellpads, and pile decorations and souvenirs on their hats according to their own fancy.

We found ready-made jumbo-sized handkerchiefs in a local store, but in blue & white and red & white patterns, which hence became part of our standard kit. Frequent stick breakage caused interesting random effects at performances until my employer's chief forester arranged a supply of superior specimens for us.
(He advised us to use a long-fibred species, I think some kind of maple, for strength, and on a company field trip they found for us a bunch of cuttings. So far they have lasted three decades, and they have a beautiful piercing ring, when held with a relaxed grip, and aimed at a meeting point for the clash, rather than swung like a golf club.)
Our first appearance was in 1974, a stage performance in a program of folk dances. Lacking a musician, we depended on recordings. For a couple of years we continued with occasional practices and performances. We did not exclude women, but few were interested in participating except as stand-ins; when they would wear the men's costume.