4 ~ 1976, our part in Montreal's Olympics deficit
(Lots of room here for photos! I have one newspaper cutting, of us performing Blue-Eyed Stranger, in front of a store-front window, quite impressive, but black-&-white and faded.)
In 1976 we were galvanized into more energetic activity by being selected for the BC contingent to the Arts and Culture Program of the Montreal Olympics, on the recommendation of the Victoria Inter-Cultural Association, an umbrella organization for the ethnic groups. We took with us an accordionist whose background was Old-Tyme dance music, and considering the change in style needed I think she managed well. Other groups in the BC contingent included a traditional Chinese orchestra, some Punjabi dancers, a Doukhobor choir, and a Tahitian dance group; I mention these because our Morris activities are seen here to constitute one element in the so-called intercultural mosaic that is officially encouraged by Canada's Multiculturalism policy.
---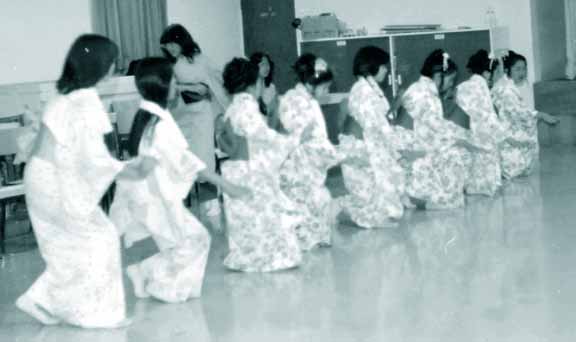 The Punjabi dancers were spectacular, their highlight coming when they danced in vertical pairs, one dancer's feet on another's shoulders. Groups not mentioned above included a family of Spanish dancers (of Victoria), and a choir of Korean girls. Probably I have forgotten someone.
(A photo received from
the Korean girls choir)
We might have used recordings (other groups did), but the BC contingent leader, Frances Fridge of the Canadian Folk Arts Council, said they needed a musician for the National Anthem, and Grace (the musician they selected) could take care of our music too.
We took the ferry from Victoria to Vancouver, and stayed the night at the Sandman, by the bus depot. We went to some hall or gym for a rehearsal, not in costume, and I recall feeling discomfort that we did not appear at our best.
Next day we flew to Montreal, and were taken by bus about an hour's ride from the city centre to an orphanage (the residents being away on vacation) in the East End. We were given breakfast vouchers for a nearby café, and as we had no choice of eating-place they gave priority to their regulars.
The groups were divided into two tours, Chinese orchestra and Doukhobor choir in one, the rest of us in the other. Our tour's show lasted about an hour. We had ten minutes or so for our Morris.
From Monday to Friday our tour was to give five shows, one for each of three days, two shows one day (although one of those was dropped), and one day free. We had to be dressed up and ready for the bus, but often the bus was not ready for us. Then there was the hour's drive into town. There were various locations, including a shopping centre. After the show we had time for lunch and looking around, and then we waited for the bus, which was sometimes late.
One afternoon we stayed downtown for dinner, us and some others of the BC groups. The restaurant made a single multi-page bill for all of us, with predictably uneven results when we tried to work out our dues. People have long memories about money and fairness.

August 1976 ~ a postcard from Leilani of the Tahitian dance group:
Hi, Uncle Morrises (Ken, Dave, Fred, Dave T, Don, & Doc), & of course Auntie Morris,
Having a good time here in New York. Hope you all had a good trip home. Thanks so much for being so nice to us in Montreal, and also being our "chaperones." Hope we weren't too much trouble ...
When we met they decided to call each one of us "Uncle Morris", except for Grace, our musician ("Auntie Morris"), and Valin, who they discovered had a PhD, so he became "Doc Morris". Their naming convention we accepted in the spirit of multi-culturalism. And the chaperoning part was an enjoyable responsibility, diligently performed.
---