9 ~ 1984, this ten-year account concludes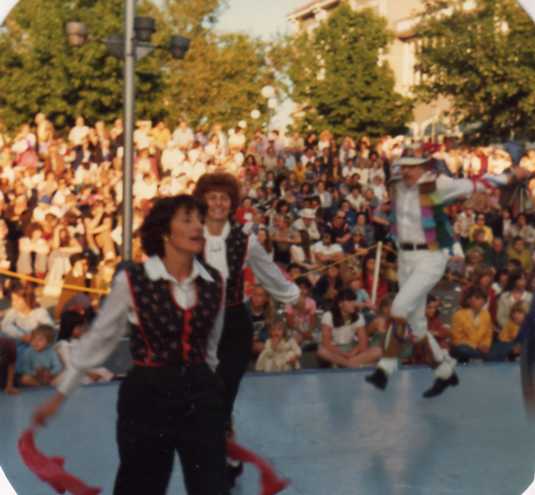 Our log for 1983 shows 15 performances, 8 indoors (TV, music festival, church social, senior citizens' centre, hospital, retirement home, department store, private club), and 7 outdoors (Harbour Festival, Folkfest, and five informal dance-outs in various open spaces).

(Folkfest 1981,
Bonny Green Garters,
Wauneta, Christine, me)
We dance mixed; if we had more members we probably wouldn't, if only because of the difference in costumes.

Shortage of members has also meant that we cannot spare any above-average dancer to become a Fool.
(1984, Helen & Fred's wedding,
Oak Bay Beach Hotel)
Current traditions are Headington, Adderbury, Bampton, and Bledington.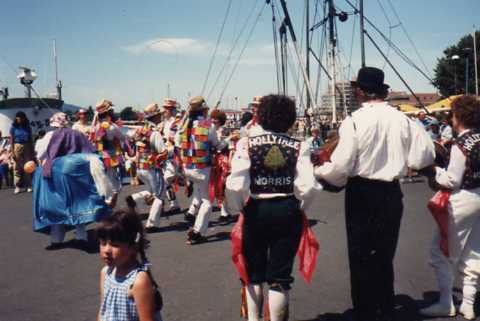 I realise that to some extent our style is peculiar to ourselves, partly through accidents of interpretation and also more recently from creative experiments with new variations. In keeping with our general level of ability, we avoid some dances that seem too difficult. Our cumulative repertoire, including what we have forgotten, averages just over two dances added each year.
(Harbour Festival, 1983)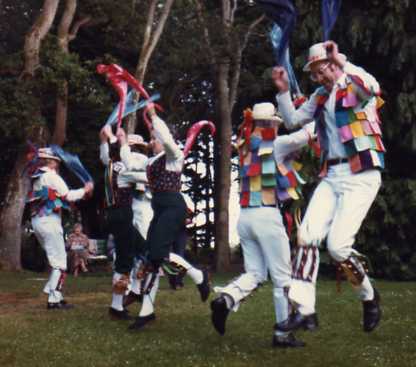 We practise on Monday evenings at Doncaster school (formerly at Uplands school); during the summer holidays we practise less regularly on members' lawns. On an exceptional night we get a dozen out, almost our total membership, some of whom have been with us for most or all of our existence.
(Beacon Hill Park, 1984)
Most of our people are in their 40s and 50s, and cracks about advancing years are becoming more common: after one performance at a hospital, we had a roll-call to check that no one had been lost in the geriatric ward.
(Beacon Hill Park, 1984)
---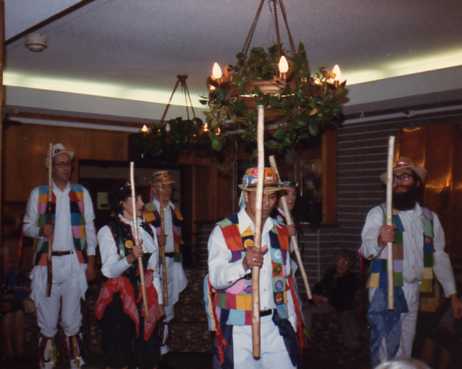 (1984, Glenshiel Hotel,
John Carver leading)
One thing, about vigour, athleticism: I don't claim we were ever strong in those qualities, and frankly I have envied some dancers their amazing leaps; some of us, however, have lasted quite well, and it's good to retain a form of physical exertion into the latter years. Some people have had both, the stupendous leaps in youth and the continued energetic dancing late in life; they are lucky.
We had two expenses-covered cross-country trips, to Montreal in 1976, and Cap-Chat in 1978, unrepeatable these days because Morris dancers are no longer rare, as we were then; and because money for arts is scarcer than it was in those times; our economy has grown, but public wealth has shrunk while private wealth has been expanding.
On each occasion we were with a diversity of ethnic performing groups (mainly dancers). I have found this congenial, partly because performers generally appreciate the performers of other groups for what they are. My experience with member groups of the Inter-Cultural Association of Victoria has been similarly favourable.

When we perform with fellow Morris groups in Victoria, Island Thyme and Quicksbottom, we have the pleasure of our shared dance interest, and an opportunity of catching up on gossip with people we see occasionally, plus the advantage of conserving energy and prolonging the performance through taking turns in a rotation.
---