5 ~ 1978, onward to St-Octave-de-l'Avenir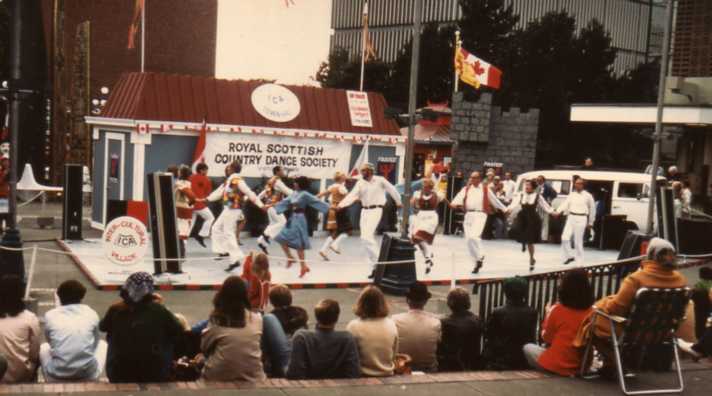 After Montreal, we relapsed into occasional practices and performances, until 1978 when we were invited (again through our ICA connections) to represent BC at a folklore festival on the Gaspé, the circumstances being similar to those in Montreal but on a much smaller scale.
(Folkfest, 1977: the Morris Men have performed, and - minus bells et cetera - join in a folk dance, maybe Carnavalito)

Photos from our Cap-Chat trip are, so far, from Fred's and my collections.
Further contributions will be welcome.

(Arrival in travel clothes
at Mont-Joli airport:
Dora Leigh, Don, Valin, Tom, Fred)
Again we had a team of six dancers, mainly those who went to Montreal, except that David Taylor was by then working abroad, and Tom Barnes had joined us.
I asked at Tempo Trend Studios (where our son and daughter took music lessons) whether they knew a musician who might play for us, and they suggested Dora Leigh. We learned she had won a BC award for accordion, and had performed as a guest soloist with the Victoria Symphony.
I felt guilty about asking her to introduce some jerkiness into her playing of the Morris music, but she was both understanding and adaptable, and it was a pleasure for us to work with her on the practices and performances.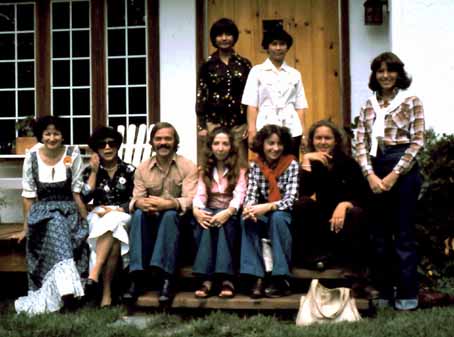 (At the picnic put on
for the performers,
including
the Italian dancers,
Philippine dancers,
and some others)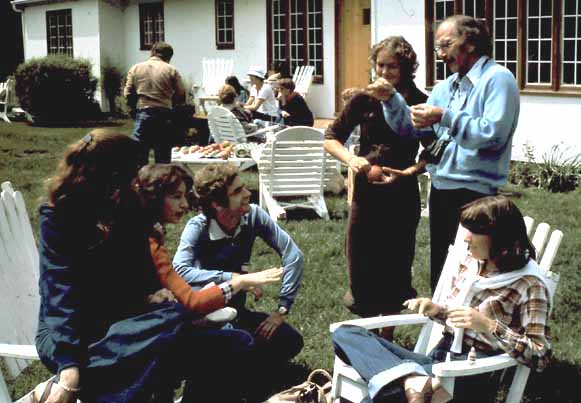 (The picnic location
was sheltered,
and warm in the sun;
the Italian dancers, and
unknown young man and Tom
keeping them company)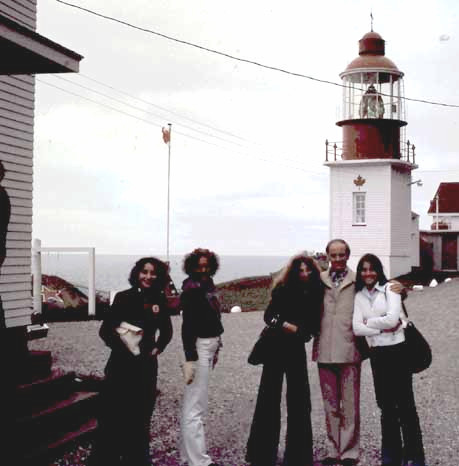 (Even in summer
the weather can be chilly;
Cap-Chat, the lighthouse,
and Fred taking care
of the Italian dancers)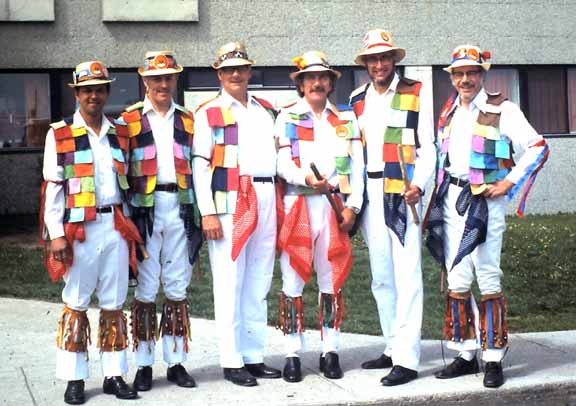 (Valin, Fred, Ken, Tom, Don, David
- Fred's camera,
probably Dora Leigh using it -
awaiting the bus to St Octave;
dressed up except two without bells
- protecting their blood circulation -
and my laces dangling;
note the deliberately random
red or blue pairs of handkerchiefs;
short sticks visible;
I think we were using
a long canvas bag
to carry the long sticks)

---